We meet new people every week. We tell them our story: what we're doing and why we're doing it. It's not a common story and it's not a common way of life. I think this is why we often find ourselves in uncommonly deep and interesting conversations with people we've only just met. Our story invokes questions that one would not ordinarily ask a stranger, and our way of living somehow invites people to think about our lives with more scrutiny (I don't mean negative scrutiny) then they would had we met under different circumstances.
Most people have questions, and we often hear the same questions repeated no matter where we are in the country. We decided to put together a list of the most frequently-asked questions. Our purpose is not to discourage these questions from being asked in person (their answers will likely change and evolve) but to answer them for those of you who may not have thought, or had the occasion to ask.
Before we start, a quick recap of some highlights from last month: packed houses at Bach & Beer in Washington DC and Philadelphia were loads of fun - check out this awesome review in the Philadelphia Inquirer. From Philly we headed to NYC for another Bach & Beer and a concert of all Schubert music and letters, specifically music written in his last year of composing. For this concert Steuart was joined by great friends and musicians Brendan Shea and Yerin Kim.
Despite a busy schedule we got to enjoy the city with some old friends, complete with a taxi ride through Manhattan, a Broadway show, amazing ramen and Filipino food, a subway ride, an impromptu boxing match in Union Square (as spectators...) and a good amount of wandering the streets. Our next stop was Michelle's home turf, the Boston area. The first Massachusetts concert was in the beautiful beachfront home of a good friend of ours - have we mentioned how much we love house concerts? The next day, Aeronaut Brewing in Somerville played host to a Bach & Beer concert. The Boston Globe wrote a great article (read it here!) and the place was packed to the max - a line of people waiting to get in stretched through the parking lot! Our last concert in the area was in Michelle's hometown of Needham. We performed What Wondrous Love, again with our friend Fiona Hughes, to a crowd of friends and family. It was an incredibly special night.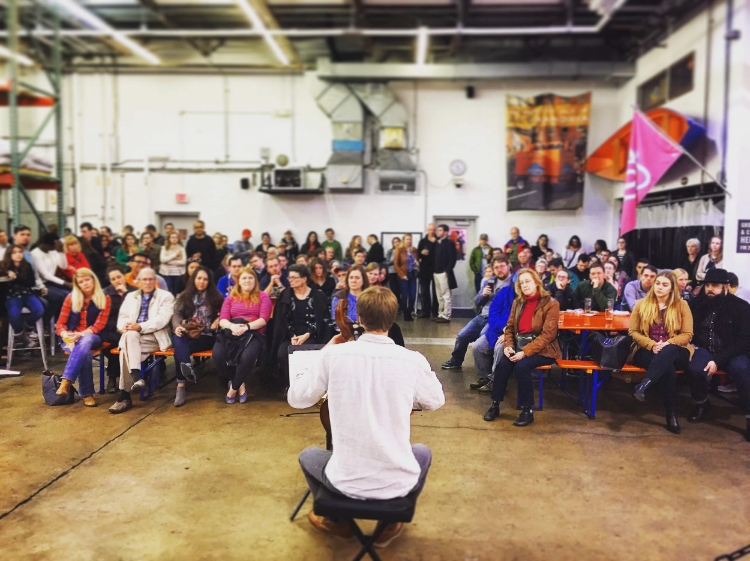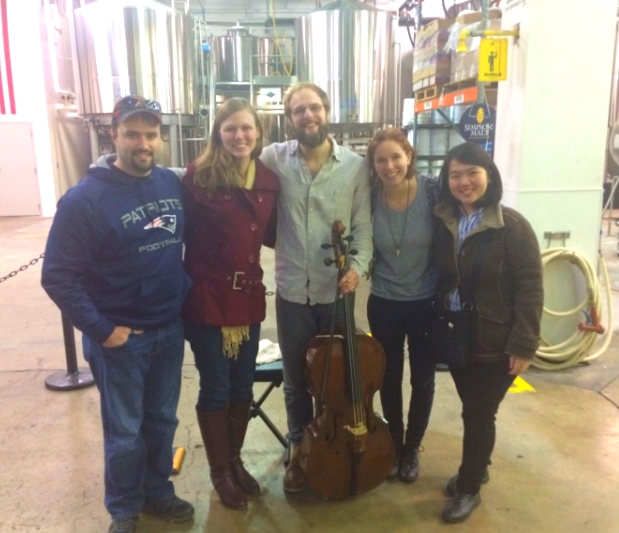 Now on to some questions and answers! If you have a question that isn't addressed below, leave it in the comments section and we'll respond!
Where is home base? -- We don't have one! Our last home was in the Netherlands. When we moved back to the U.S. we moved into our 1959 travel trailer and live in that full-time. Now we bring our home with us wherever we go!
How long will you do this? -- We planned to do the tour for one year, and we're sticking to that plan. We'll continue through October, and finish in the southwest.
How do you choose where you're going? -- About six months before we started the project, we announced our plan to everyone we knew. We said we were looking for people to "host" us, to connect us to their communities. Based on the reactions from our friends and friends of friends, we planned our route! We also planned around the seasons, staying south in the winter, heading north in the summer.
Do you really live in that thing? -- Yes, we really live in our trailer. We often stay in people's driveways, but we love sleeping in our bed, having our own little kitchen, and not packing up a suitcase. Here's a video tour if you haven't checked it out already.
Are you able to cover your expenses with asking people to "name-your-own-ticket-price" for the concerts? -- Yes! By keeping our expenses and overhead really low, we're able to live on what comes in from the concerts. We think it's a pretty awesome model: the people listening to the music are the ones directly supporting the musicians with whatever they can afford. We plan about 5 concerts a month, and this seems to be a good balance of covering our expenses while still giving us time to enjoy the journey.
How do you get so many people to your concerts? -- We've learned a lot since starting the tour, and we're really excited that the project has been getting so much attention. We plan to write a pretty detailed resource about this grassroots approach to classical music concerts including things like designing the program, finding the venue and promoting the concert. There's a ton of work that goes into it, and we're excited to be able to share this resource with you at the end of the tour.
Do you have a favorite program? -- Obviously Bach & Beer is a lot of fun, and it's super successful in accomplishing our goal of bringing lots of new-to-classical-music-folks to the concerts. But we both agree that our favorite program is the "Put My Tears in Thy Bottle" - a concert that looks at human trafficking. Do you have a favorite? Leave it in the comments section.
How is your dog Lucy doing on the road? -- Great! She's an awesome travel buddy and we've been able to visit a ton of amazing places for her to run around! She hasn't quite mastered English (Dutch is her first language), but we're working on it :)
How long have you been married, and how do you stand being together all the time? -- We've been married almost 7 years, but a good chunk of that time was spent apart because of Steuart's travel schedule. You could say that this tour is making up for lost time. We certainly had to adjust to each other's very different working styles and living in a small space together, but this is an adventure we couldn't imagine having without the other.
Do you miss the Netherlands? -- Yes! Our home in the Hague is the last place where we had a community, a favorite cafe and bakery, so in many ways we don't yet feel adjusted to life in the U.S. It's amazing to see so many parts of this beautiful country, but yes, we miss "our home".
What do you plan to do when you're finished? -- We're not sure yet! We have a few ideas in mind and are exploring some options, but nothing yet confirmed. We've visited some amazing communities on this tour and we're really looking forward to settling down somewhere when this is all over.
Any other burning questions? Leave them below and we'll be sure to answer!